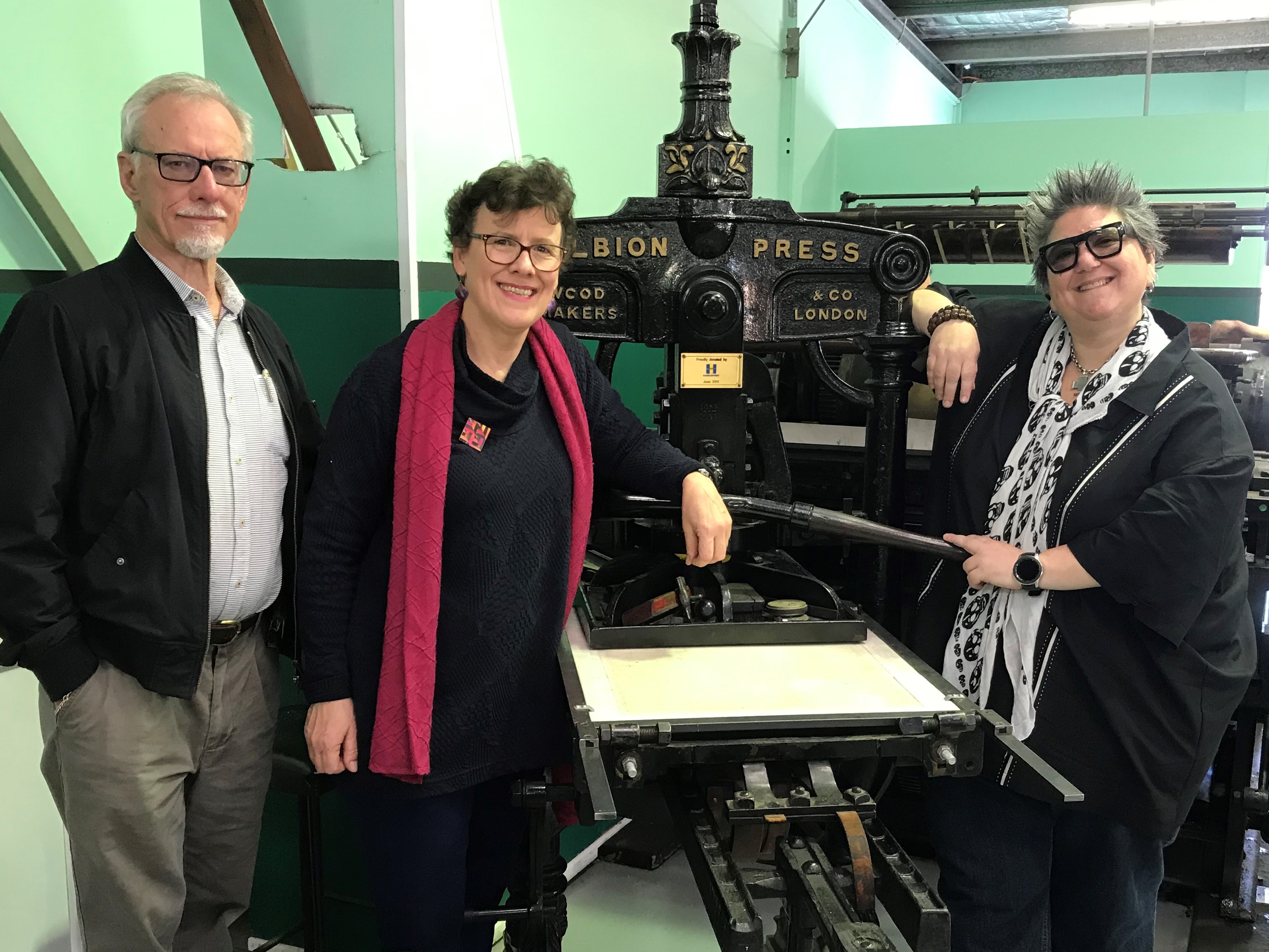 Amid much pomp and pageantry, visiting US print guru (flown out specially last week to speak at Printex), Deborah Corn was officially sworn-in as the Museum's inaugural (and perhaps only) Ambassador to the Printerverse.
Uniquely equipped for this role, Deborah is well-known for her passion, perseverance and perspicacity in promoting print – across America, across the globe and now to the far-flung corners of the Printerverse.
Attending this gala event was a star-studded cast of print notables, including the Museum's president George Gearside, Bob Lockley the Museum's chancellor-of-the-exchequer, and other esteemed members of the Committee including John Berry, Peter Butterworth, Graham Elphick and James Cryer.
Other dignitaries who were unable to attend, included Stephanus Peters, sent messages of support, upon hearing of Deborah's appointment.
During the ceremony, Deborah herself was presented with an elaborate certificate which cemented her position in this unique role.
Helping to celebrate this auspicious occasion was another "lady in print", none other than Jean Kropper, famous as one of the world's best-loved paper-engineers and creator of some of the most unique and ingenious pop-ups and other structures, all made out of paper and board and used in promotions and product-launches.
The Museum is fortunate in gaining her as a consultant, as Jean has offered to share some of her paper-sculpting skills via workshops to be held at the Museum (details to be confirmed).
All in all it was a magnificent occasion. It's not often that Penrith is graced by "print royalty" – and someone in the crowd whispered that Deborah was the highest-ranking dignitary to have visited the Museum – possibly even out-ranking the Mayor of Penrith, who had cut the ribbon at the Re-opening Ceremony back in November.
But as Deborah herself acknowledged during her gracious acceptance speech, she'll be honoured to represent the Penrith Museum of Printing and take its message to the furtherest corners of the Printerverse, shining light where there was darkness, and bringing print where there was none before.
Tired and emotional, the crowd retired to a lavish after-party at Penrith's Hog's Breath Cafe and dutifully celebrated Deborah's exciting new role.
Also of interest are two exciting projects the Museum is embarking upon:
1) the re-printing of an Australian comic, produced originally by a local artist during the Second World War, when "foreign" paper and printed products were banned, and
2) miniature models of Gutenburg's famous press, produced by 3D-printing and available for sale, in "flat-packs" suitable for shipping and re-assembly.
The PMOP welcomes new members – please visit their website – www.printingmuseum.org.au – for more information about these and other exciting initiatives – and to become a Member!