February 2020  Hornsby TAFE Graphic Design Students Visit Clarke Murphy Print
Many thanks to Benn Murphy of Clarke Murphy Print for taking a group of Hornsby TAFE graphic design students for a tour of their Chatswood premises.
The tour was a huge learning experience for the students, giving them an insight into the world of printing and the role played by the graphic designer.
Benn was a great advocate for the print industry showing the students the amazing innovative print work produced by Clarke Murphy and that print continues to be a growing and vibrant industry.
Thank you also to Jenny Young from TAFE for organising the students to come on the tour.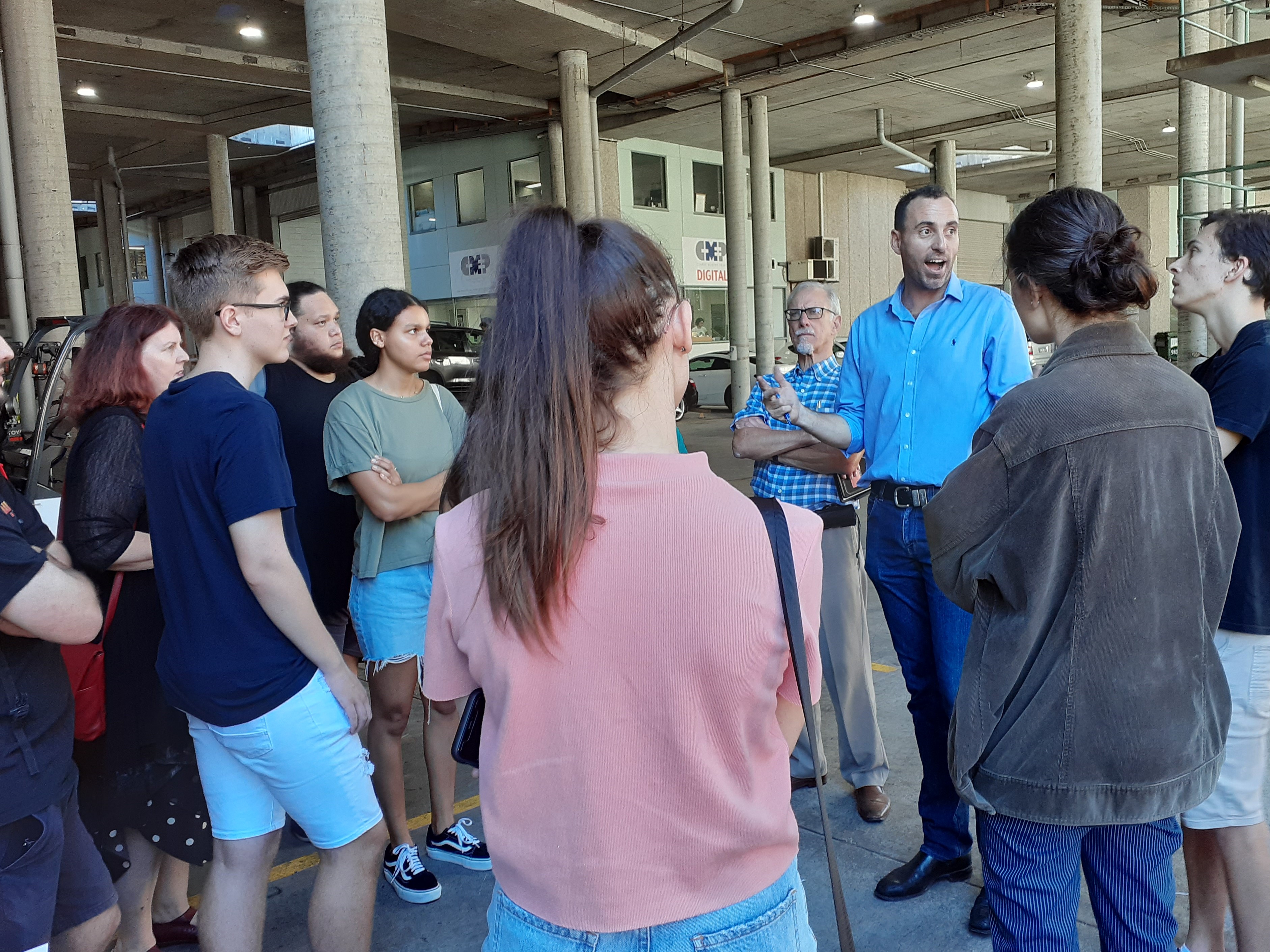 November 2019 Meeting of the Old Friends, the LIA and the Penrith Museum of Print
Many thanks to Carbon8 for playing the perfect host and taking us on a tour of their new Marrickville premises. We could hear ghostly voices of the past as the building was occupied for many years by one of Sydney's leading printers Blake & Hargreaves. The group then retired to The Henson to discuss important technical matters arising, one being an exciting new project currently undertaken by the Penrith Museum of Printing, breathing new life into a war-time comic book, which is already sparking considerable interest. Stay tuned for more details on 'Smashing the Spy Ring.' For more details contact the Penrith Museum of Printing.
Members of the Old Friends, LIA and Penrith Museum of Print
Picture courtesy of Wide Format Online https://wideformatonline.com/
September 2019
The Penrith Museum of Printing is selling models of the Gutenberg press to raise money for the Museum. The Gutenberg presses are 3D printed which is a polymer with a wood filament. You can carefully sand it with fine sandpaper and stain it, as you would do with wood. The size of the press is 13cm long x 11cm tall x 7cm. The sale price is $40. These would be a great Xmas present for the printing enthusiast! If anyone is interested please contact Stephan on printing_museum@sifan.org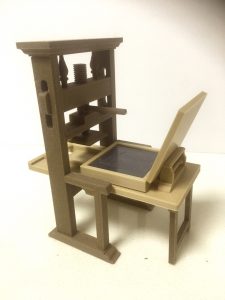 June 2019 James Cryer talks up careers in Print and Signage to NSW students
James
Cryer took samples of embellished print, courtesy Kurz foils, to show students
Last week I had the humbling experience of confronting 240 enthusiastic young students in the Assembly Hall at The Forest High, on Sydney's Northern Beaches.
No, they weren't wielding pick-axes and they weren't going on strike. They were quite demanding, however, and that was in their quest for knowledge, especially about career choices (which they didn't even think existed) in the print and signage sectors.
I was there, courtesy of a marvellous organisation called "Inspiring the Future", run in Sydney, by Adrian Rhodes – whose aim is to bridge the gap between school-leavers and industry generally, with the aim of explaining in more detail what career, or vocational opportunities exist, across a broad range of industries.
This is particularly (or especially!) the case with 'the trades', such as those like printing, which may have a poor, or misunderstood, perception among the broad cross-section of school students, who still perceive these trade-based industries as mainly offering only factory-based roles.
Little could be further from the truth, as we all know … or do we? Many of our trade associations and media outlets still lament the disastrous decline in apprenticeships, when in fact the print, package and signage industries are rapidly re-inventing themselves as service industries – with a greatly reduced dependence on traditional vocations such as printing-machinist or machine-minder – terms which should be consigned to the great wheelie-bin of history.
In a printing company one hundred years ago, there was one admin person for every nine factory staff: now, that ratio has been tipped on its head, as the modern print or signage business employs more customer-facing, tech support and even HR or IT staff.
Modern roles for modern kids
These are the roles which the modern youth of today crave – not factory-floor ones, and this was borne out during my in-depth, speed-dating experience with each of the 240 students (or that's my story, anyway!)
Several messages (or examples of mis-information) emerged:  when I asked the kids to give me examples of print when they first got up in the morning, they were tongue-tied until I rattled off things like the packet of cornflakes, the label on the juice bottle, the driverless-train ticket, the Woolworth's truck that roared by – the list was endless – they had looked, but never seen, how print is all around them but they assumed it all just happened by magic.
They also think, quite understandably, there is no 'future' in print, as all they hear about is the decline in newspapers and the growth in online everything. They also assume the only roles in print would be in factories – they're completely unaware of the growth in additional roles, as mentioned, in client-facing, sales, operations, IT, digital disciplines or admin positions.
Furthermore, they were oblivious to the existence of anything other than newspapers, magazines and books, when it comes to the print sector. No mention of POS, promotional products, signage, displays or DM. No concept of brand management, where smart printing companies are becoming campaign managers working with their clients across numerous platforms, often involving both print and online strategies.
When they asked me, hypothetically, if they wanted to join the print or signage industries, how would they do it? – I was struggling to give them a clear-cut answer. Do they just ring up their local friendly signage companies? Do they contact TAFE? Do they contact an industry association? If so, which one?. Do they contact their local MP?
I know energy is important, and the PIAA has spent much time schmoozing with Canberra on this issue. But to prove we can walk and chew gum we should be coordinating our efforts and asking all print and signage organisations to join forces in reaching out to school-leavers and presenting our industry as a positive career choice.
My suggestions, open for debate, are:
A dedicated 'careers in print' website would help.
Maybe appointing a print ambassador to visit schools and TAFEs?
There is a group has formed called 'women for engineering' (or similar) – there's no reason why we can't do the same – we've already got a Women in Print body.
Where is Two Sides on this?
Maybe it's time for a Skills Summit attended by all interested parties, including all of our major industry associations.
I can't think of a more pressing issue than attracting more new entrants – especially as our industry is clean, creative and collaborative. If my confrontation with 240 kids taught me anything, it's that other industries are also out there making their pitch.
May 2019 The Print Industry's first "joint sitting", hosted by the Old Friends Society (ASOOF) held at Doorley's, Silverwater, Sydney
This is a momentous occasion as we're actually welcoming not one, but four different tribes who've all operated under the one "print industry" umbrella, for many years, but have never actually met, all under the one roof.
I refer, of course, to the LIA, the Pressgang and the Penrith Museum of Printing (PMOP), all brought together this evening under the auspices of the Australian Society of Old Friends.
Spears and tomahawks have been laid down outside and we're discovering our similarities far outweigh our differences. (Whether that extends to printers and comps actually being civil to each other remains to be seen.)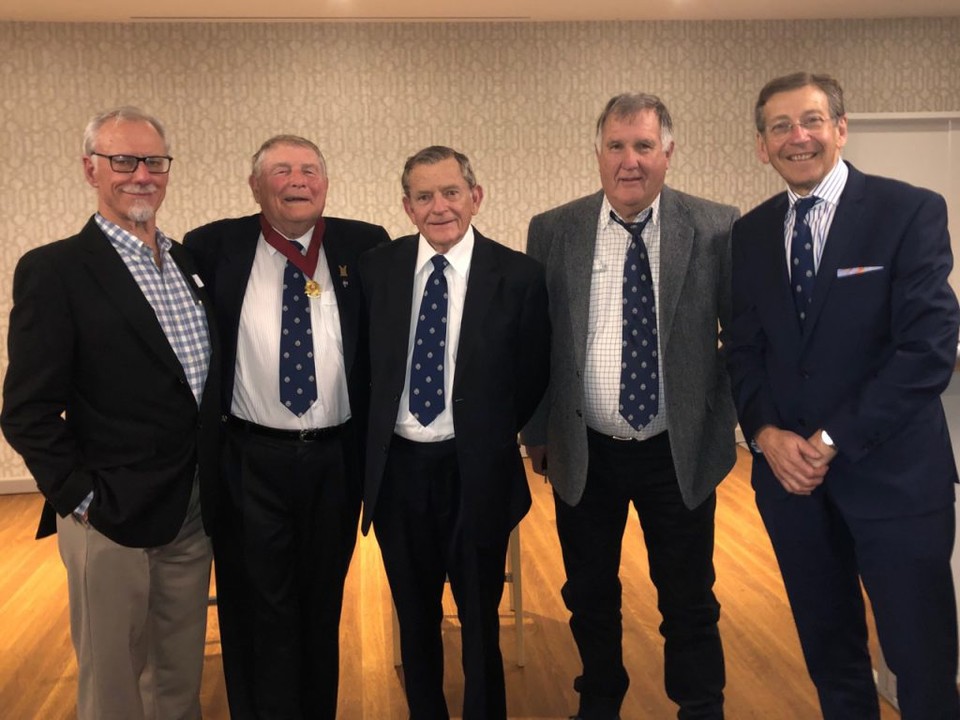 Old Friends and mates: (l to r) James Cryer, Jim Richardson, Des Hayes, Cliff 'Mr Paper'​ Garret and MC, Scott Telfer Photo Courtesy of Print21
But how did this all come about? The ASOOF is based on an English idea that sprang up in about 1909 to encourage retired tradesmen (they were all men) to keep in touch and to retain the camaraderie they'd built up over a lifetime in their particular trade. And so, that's exactly what "our" ASOOF does today, providing a unique opportunity for networking – which I'm not sure exists in any other industry?
In other words: the purpose of the evening was to enable people – all of whom have grown up in the printing industry – to meet others they may otherwise have never met!
But the ASOOF has recently embarked on a number of other projects – one being to record every printing company (starting with NSW) that has "passed on", to create a directory of printing businesses that have helped contribute to our industry.
Another is to reach out to the Penrith Museum of Printing and encourage more visits and interaction with print industry members.
Another is to record the stories of leading figures from our industry who can reflect on their careers – including the amusing and serious aspects – so they can be recorded permanently and archived by the PMOP.
These things don't happen overnight and I'd like to mention four of us – Scott Telfer (ASOOF president, Peter Munro (ASOOF and LIA organiser), Stephanus Peters (ASOOF and PMOP webmeister) and myself (ASOOF secretary and PMOP committee) for helping drive this agenda of collaboration and reaching out to embrace other groups.
Just a quick word on the PMOP, if I may: as mentioned there are several members of the PMOP in attendance*, and they should be proud of the work they've done as volunteers.
This institution, built on the back of the closure of The Nepean Times, has risen to become an important part, of not only our industry, but also western Sydney's cultural fabric.
Visit the Museum and maybe become a sponsor!  * PMOP attendees: George Gearside, president; Ralph Bennett, IPP, Peter Butterworth, Reg Boonzaier and Stephanus Peters
November 2018 Print Industry Reaches Out To TAFE Graphic Design Students
Print and signage industry representatives were on hand this week for the launch of a new initiative aimed at educating TAFE graphic design students about the range of employment opportunities across the printing industry.
 JDA's James Cryer at TAFE Hornsby
Program founder James Cryer of JDA Print Recruitment delivered a 50-minute address to print veteran and graphic designer Howard Binns-McDonald's class of more than 20 design students at TAFE Hornsby in Sydney.
Cryer was backed up by valuable contributions from Signwave franchise business consultant Kirsty Koopmans, Snap national training coordinator Mitchell Dowzard and Kurz national technical specification manager Adrian Barbero. The industry turnout illustrated the increasing support for the program to be rolled out across TAFE colleges on a wider scale.
In a wide-ranging printing industry overview, Cryer, in his trademark quirky style, outlined opportunities available in design, pre-press and actual printing, across various sectors including offset, digital, wide-format and packaging, and examined the growth of print managers, brand managers, personalisation and colour management.
James Cryer addressing students at TAFE Hornsby
The presentation was well received by the students, most of whom stayed behind afterwards to pick up training and employment information from the various company representatives. Teacher Binns-McDonald described the session as one of the most effective class sessions in recent memory.
"To put it simply, the presentation was one of the best Design Talks that we have had here at Graphic Design, Hornsby TAFE," says Binns-McDonald. "James explained technologies which require new print applications, he referred to inkjet printing, 3D printing, material surface printing and other new directions that print needs to perform to remain current. Print is not just ink on paper in books, magazine and packaging.
"To accompany the presentation, James surrounded himself with industry experts to further emphasise his determination to encourage new entrants into Print.
The whole point is to dispel the myth that print is dead or dying, Cryer says. He also referred to the resurgence of letterpress printing – "the heart and soul of our industry which is making a come-back for personal stationery, wedding invitations and more," – and cited the Penrith Museum of Printing, which holds courses in this almost-lost art.
Cryer, a long-term industry advocate, plans to hold similar events at TAFE colleges in the near future and has also produced a unique Print Industry Jobs Matrix to incorporate into the program, which outlines various jobs available in commercial, packaging, signage and trade services across all print-platforms, including offset, digital, flexo and wide-format inkjet.  He invited other TAFE colleges to get in touch to express their interest in the program.
(Story is courtesy of Wide Format Online November 2018)
James Cryer was invited to speak to the Graphic Design students at St George TAFE College about the printing industry and the opportunities it offers.