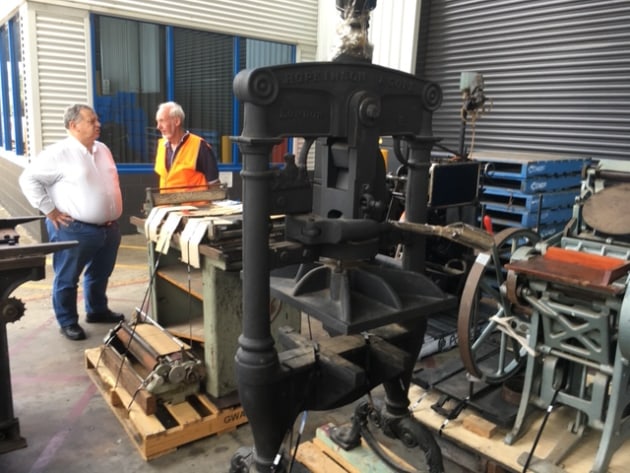 Penrith Print Museum finds a safe haven for its overflow of printing exhibits with the industry's largest paper merchant in Sydney

An important milestone in the ever-evolving story of the Penrith Museum of Printing (PMOP) came when paper merchant Ball & Doggett accepted a delivery of old and antique printing equipment for much-needed storage. A victim of its own success, the popular industry museum is bursting at the seams with donated equipment. The volunteer-based organisation is in dire need of additional storage space to keep the valuable artefacts safe and secure.
Following a proposal I submitted asking for assistance, Craig Brown, CEO, Ball & Doggett, stepped up to the mark and offered the use of his huge warehouse at Pemulwuy, Prospect in Sydney's western suburbs. The first consignment of old presses arrived there this week.
According to Tony Bertrand, marketing manager, Ball & Doggett, the company, as a long-term participant in the industry, is more than happy to lend a hand. "We're glad to be able to help out and store a bit of industry history. Craig Brown told me we'll do what we can for them. He's the real instigator of this," he said. "I personally worry that in the future it'll all be on iPads and if we don't have these things in safe keeping young people won't be able to look back and see how it all came about.
The PMOP is gaining traction as Australia's foremost 'working' print museum. As its reputation grows it is receiving, or retrieving, significant old printing presses that have finally come to the end of their productive life. Individuals as well as companies are contributing to the growing collection.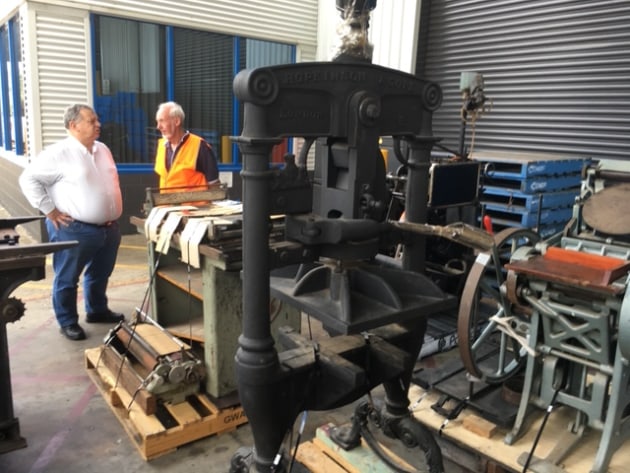 Currently the Museum is running out of space and has resorted to wrapping presses in tarpaulins and even hiring shipping containers to preserve them, while restoration work can be organised. Many of the them require considerable engineering and re-tooling to restore them to their working condition.
As the best equipped with in-depth technical expertise, the PMOP is coming to be regarded as the 'mothership' of other print museums around the country. It has become the 'go to' destination for items that may need refurbishment. The PMOP may also assists other instituions by transferring equipment, superfluous to requirements, to boost regional collections.
Such is the case with the six items of equipment that all arrived on pallets at Ball & Doggetts receiving dock, in Western Sydney. Some of these items are being stored for safekeeping with until the PMOP itself finds larger premises (hellooo – any vacant printing factories available?).
Several other items, however, are being on-shipped to South Australia's Peterborough Museum and Art Gallery, which has expressed a desire to expand its own small collection of letterpress equipment.
Items received today, to be stored/shipped include:
Small Wharfedale press – c1870s. Designed for small/tabloid newspapers. Made in England by Dawson, Payne & Elliott in its plant on the Wharfe River.
Heidelberg Platen (#31834) – c1930s-40s. General 'jobbing-press' popular throughout the industry for six decades! Owned by Saxon Press, Bexley for many years. Made in Germany – this press has 'E' possibly for English version?
Two Proof-presses –
Farley (made in UK), with large inking-roller
Ronai Engineering (made in Sydney!), small 'table-top' version
Chandler & Price – hand-fed platen – c1910s. Small basic 'jobbing-press' mainstay of the industry 100 years ago. Made in Cleveland, Ohio, USA.
Hammond trimming-saw – c1930s-60s. Essential part of composing room, for cutting/trimming metal (i.e. lead) and wood to make up the forme.
Sadly, most members of our industry these days would not have a clue about the purpose or function of these devices. However, they all played a role, like paving stones along the pathway of our industry, and as such, like retired greyhounds and racehorses, should have their place in the sun. And if not the sun, then the temporary safe storage within the tender loving care of Ball & Doggett, or some other Museum such as Peterborough, SA.
George Gearside, president of PMOP and founding light, Stephan Peters, were both at the warehouse to help receive the first shipment. Ralph Bennett,the indefatigable, tireless  and passionate long-standing member of the PMOP (and IPP), who organised much of the refurbishment and dreams about letterpress machines, not sheep, at night, also attended.
Well-known printing capital equipment merchant, Paul Carthew, PrintMac, provided transportation and technical assistance.
The PMOP is currently looking for alternative accommodation in the western suburbs of Sydney in view of upcoming development plans that will see it evicted. Submissions are being prepared to the Penrith City Counil as well as other organisations. Anyone able to help should contact me james@jdaprintrecruit.com.au
This article first appeared in Print21 4 March 2020