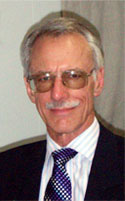 James' involvement in the printing industry goes back to the 1880's – which is when his great-grandfather (Walter James Cryer – the first) became an apprentice, in Liverpool, in the UK. Soon after, he arrived in Sydney and established a small printery here in 1903, which went on to become one of Sydney's well-known printing companies. Walter James Cryer (the first) was an early member of the Master Printers' Association. Walter James Cryer (the third) was a recipient of LATMA's "Hall of Fame" – and now, Walter James Cryer (the fourth – they've all shared the same name) still displays the same passion for the industry – after more than a century of continuous involvement.
During his career, James has held various sales, production and management consulting roles, including –
managing director of W J Cryer & Co Ltd – licensees for Avery Labels in Australia,
managing director of Pemara Graphics (NSW) – a leading label and packaging group,
proprietor of Project Packaging – a pioneer in providing print-management services, with a special focus on the self-adhesive label, packaging and POS segments,
consultant to several recruitment companies, with a special emphasis on addressing the needs of the printing industry,
founder of JDA Print Recruitment.
He has an MBA from Macquarie University.
When not recruiting he may be running a half-marathon, cross-country skiing or riding his mountain-bike – not necessarily all at the same time.