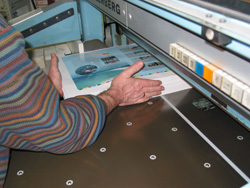 We get many "applications" from overseas candidates wishing to work in Australia.
Australia currently has a severe skills shortage in many industries, including the printing industry, and we need as many qualified, skilled workers as we can get.
Unfortunately, government policies mean that you have to apply for the right to emigrate at your local Australian embassy (in your country) before we can really do much in the way of assisting you find a job in Australia. In fact you virtually have to have arrived here, with full residency, before employers will consider you for any position.
However, if you are an English-speaking and trade-qualified or experienced in the printing industry (from countries with recognized training courses, such as the United Kingdom, South Africa or New Zealand) send us an email describing your qualifications and we may be able to offer some "unofficial" help as to your job prospects in Australia.
If you are particularly well qualified you may be eligible for sponsorship.
For futher information contact John Hourigan & Associates